Possum Point Players' New Faces of Shakespeare
performed various scenes from Shakespeare's works on Thursday, February 16, 2012, 6:30p at the
Georgetown Library
located in Georgetown, Delaware. The director was
Ms. Maureen Downing
of Lewes DE.
Here are a few pictures from that event. Click to start the slideshow!

NFS will perform various scenes from Shakespeare's works as a part of the
Milton Library
's
Shakespeare Birthday Celebration
.  The date is Saturday, April 21.  This 1:00p performance will be directed by
Ms. Sharron Karrow
of Milton DE.  Phone the Milton Library at 302.684.8856 for more information.
I think love is the reason we are here, and with the exception of the Bible, no other works have the depth of understanding of the subject of love as do Shakespeare's. For example, Sonnet 116 on the steadfastness of love takes on a new meaning for me as each decade passes. -- Beverly H. Smith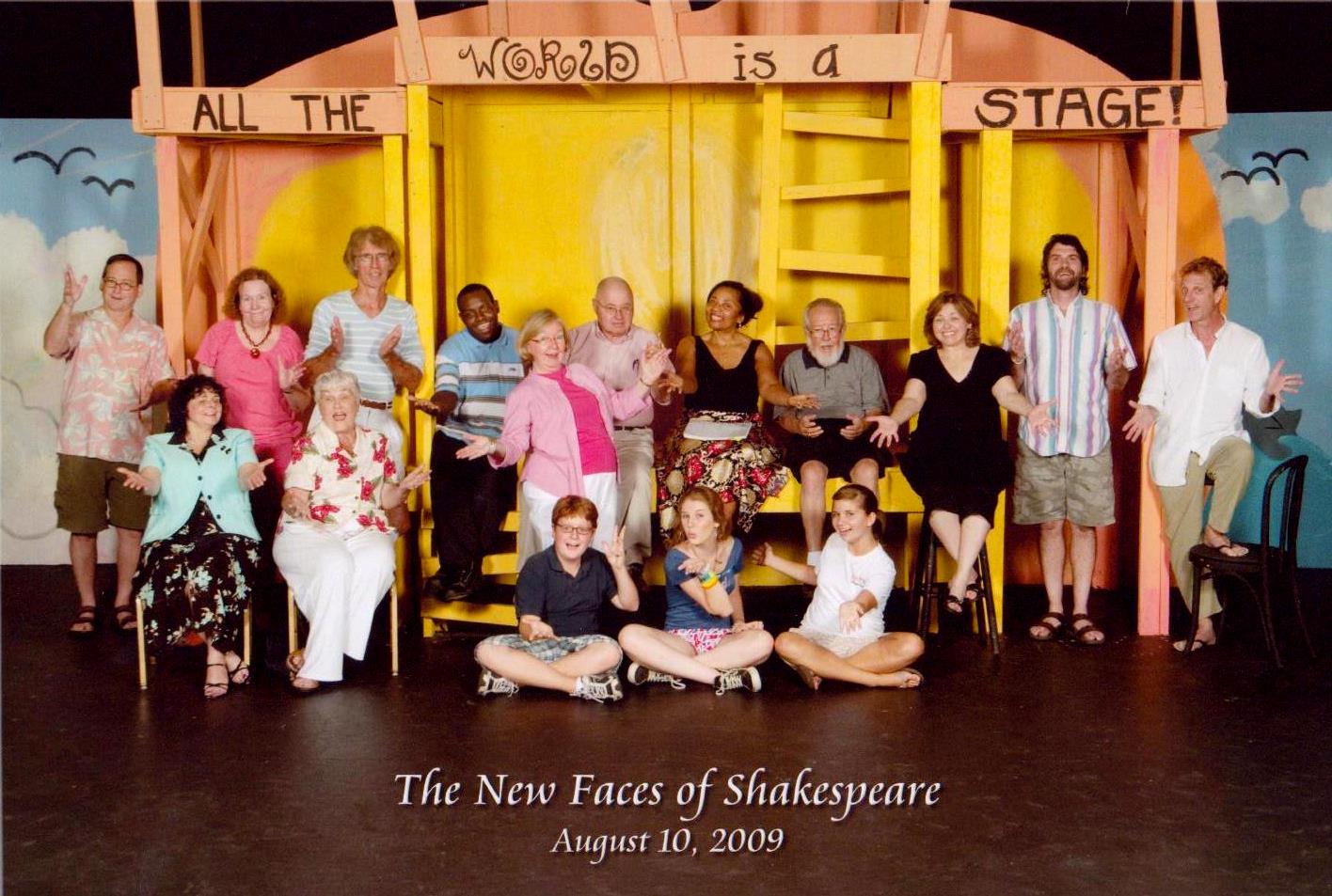 "Suit the action to the word, the word to the action."

-- Hamlet Act 3, Scene 2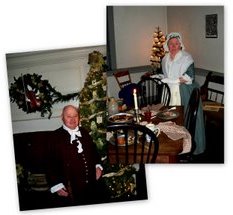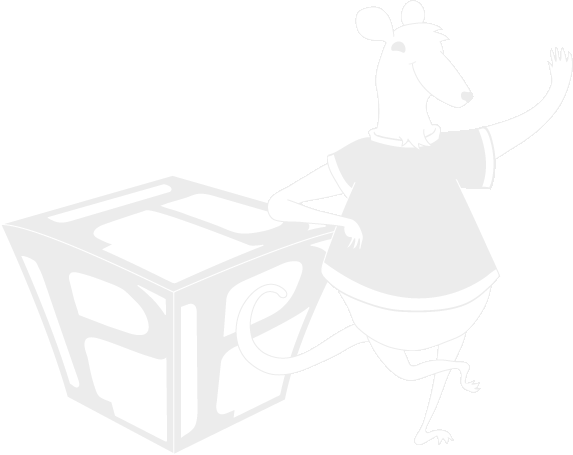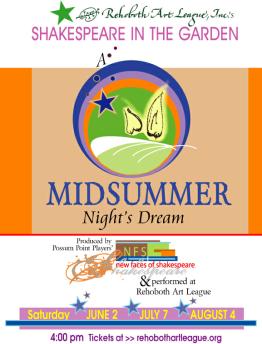 Here are some pictures from the Rehoboth Art League outdoor playing space --the site for A Midsummer Night's Dream. Click any pic!

The Outdoor Setting for A Midsummer Night's Dream

OUTDOOR SUMMER THEATER 2012

William Shakespeare's

A Midsummer Night's Dream

12 Dodds Lane / Rehoboth Beach, DE

Saturdays: JUNE 2 / JULY 7 / AUGUST 4  4:00p

This show is being produced by The New Faces of Shakespeare, an affiliate of Possum Point Players, Georgetown, Delaware. The production is directed by Beverly Smith.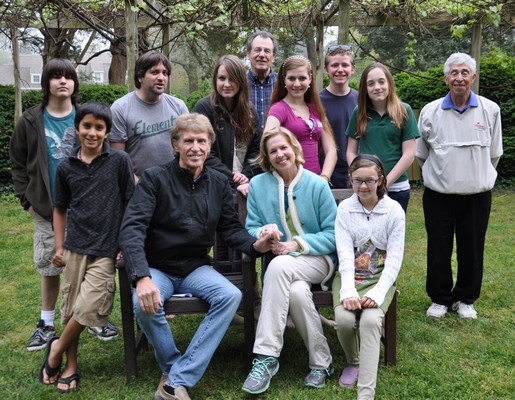 SITTING L to R: Richard Huffman, Sharon George, Sadie Davis; STANDING L to R: Ethan Harrell, Gian Singh, Michael Harrell, Skye Harrell, Malcolm Keen, Ari August, Kyle Atkinson Steele, Ally Ibach, Dan Payne

"What's past is prologue."  - The Tempest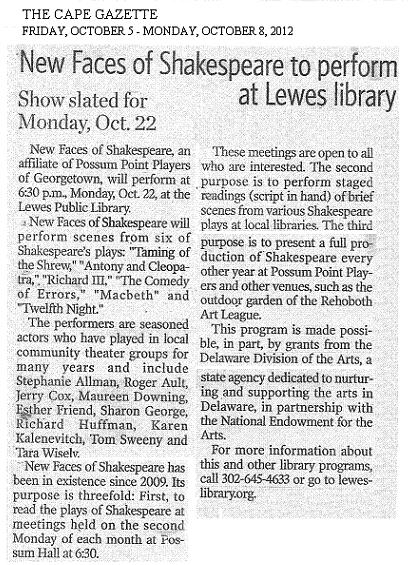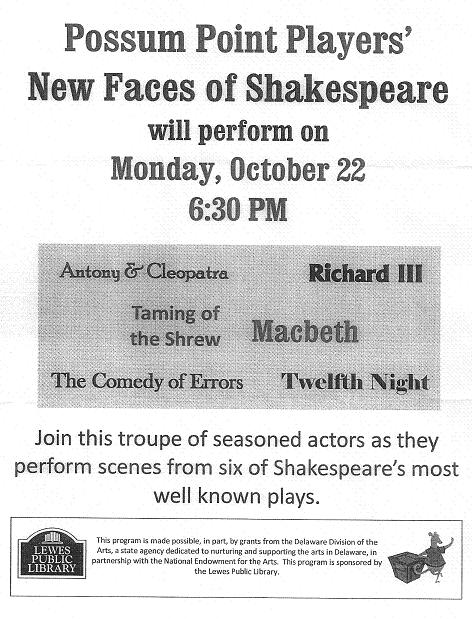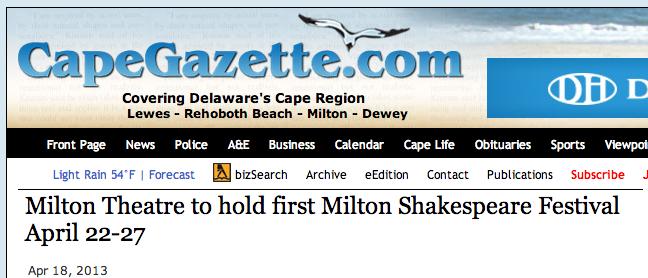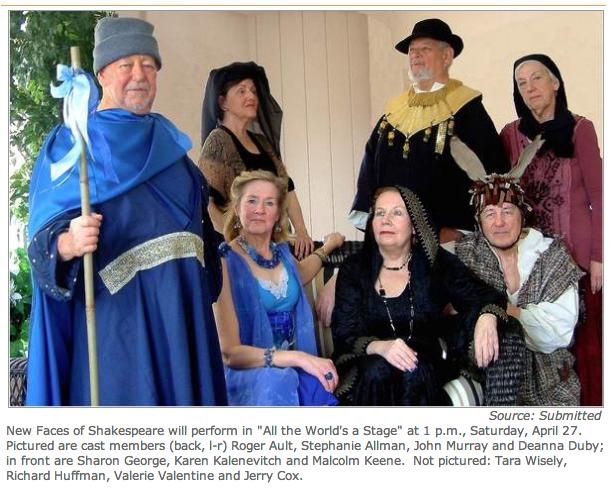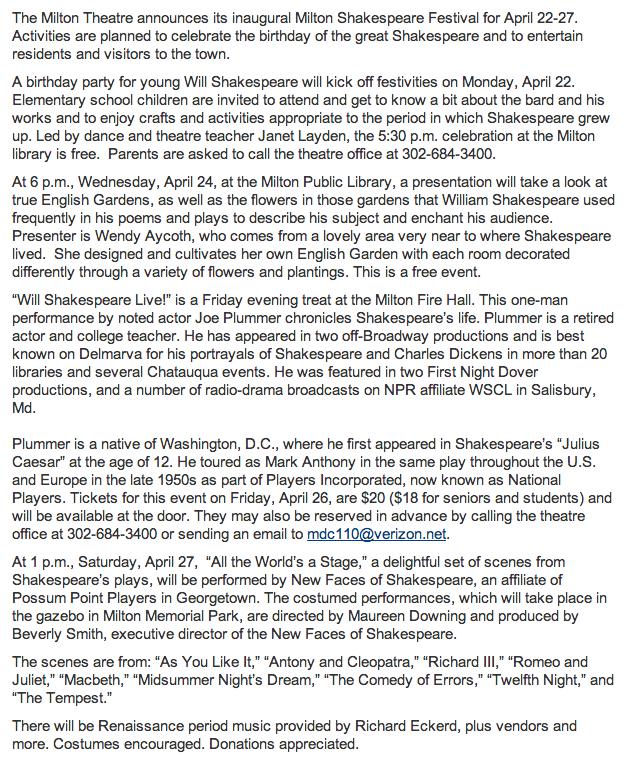 441 Old Laurel Road - Georgetown, Delaware     /     Mailing Address: P O Box 96, Georgetown DE 19947     /     Office Phone: 302-856-3460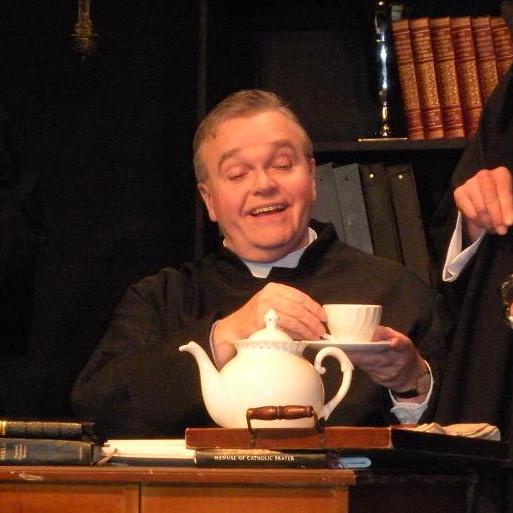 ABOUT THE DIRECTOR...

PPP's New Faces of Shakespeare is thrilled and privileged to have Michael J Murnin direct TWELFTH  NIGHT; OR, WHAT YOU WILL.You may have seen Michael Murnin as the priest in PPP's 2011's DOUBT (below), as the narrator in 2010's A CHRISTMAS STORY or his production of WHITE CHRISTMAS THE MUSICAL last year. He most recently directed PPP's summer 2014 farce SEE HOW THEY RUN. Michael has a long list of directorial credits including TWELFTH NIGHT, A MIDSUMMER NIGHT'S DREAM, LOVE'S LABOURS LOST, THE MERRY WIVES OF WINDSOR, RICHARD II, ALL'S WELL THAT ENDS WELL, AS YOU LIKE IT, and THE COMEDY OF ERRORS.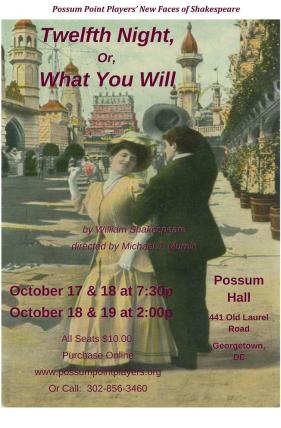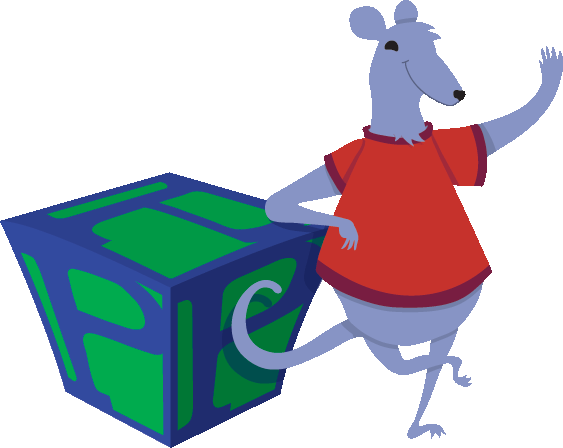 Possum Point Players' New Faces of Shakespeare seeks to promote the appreciation of the plays of William Shakespeare in lower Delaware.  We invite all to explore the vastness of human emotions through reading and performing his works.

Those interested in reading the plays meet at 6:30p on the second Monday of each month at Possum Hall, in Georgetown. A play is selected and a leader emerges to give some background on the play and to assign parts around the table. The play is read over a series ofmeetings.

Those interested in performing scenes or in full-length plays volunteer or audition for a designated director. Actors have performed programs of scenes for five or more libraries and at the gazebo in Milton.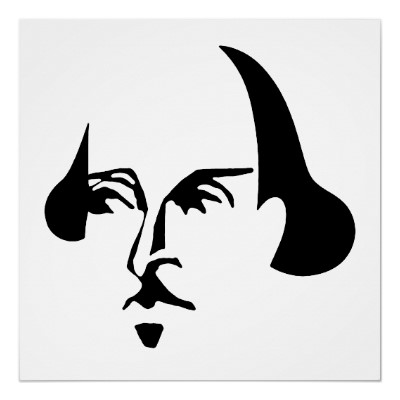 "Tomorrow,

and tomorrow,

and tomorrow..."   - Macbeth

Starting in 2009 NFS produced THE TAMING OF THE SHREW; in 2011, AS YOU LIKE IT, both on the Possum Hall stage. In 2012, A MIDSUMMERNIGHT'S DREAM was produced in conjunction with the Rehoboth Art League in the League's gardens. About every other year a full-length play is produced on the Possum Hall stage. On October 17, 18, and 19, 2014, TWELFTH NIGHT, OR WHAT YOU WILL was produced at Possum Hall, directed by Michael Murnin.

Members of the group have also lead workshops for Possum Juniors and have given programs for classes at Seaford High School and Shield Elementary School in Lewes.

If you enjoy reading or performing Shakespeare's plays, then this is the group for you! For more information about NFS and to learn what readings will be taking place, please contact Beverly Smith at 302-745-1821 or Richard Huffman at 301-529-8403.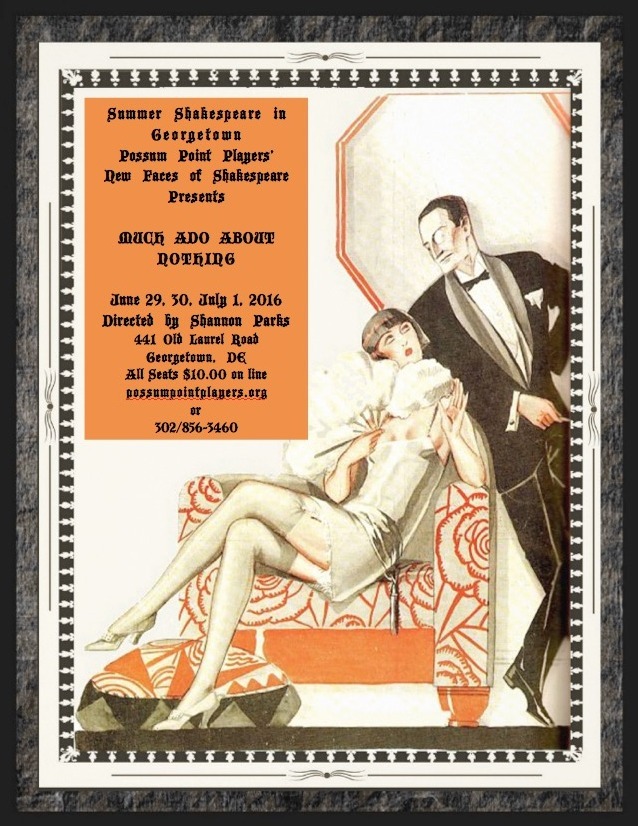 Much Ado About Nothing - Wed JUN 29 - Thu JUN 30 - Fri JUL 1 - 2016


ABOUT THIS PRODUCTION...

What happens when a ship wrecks off Coney Island, New York at the turn of the 20th century?  A pair of twins, female and male, are saved unbeknownst to one other. The female, Viola, fears this imposing place and seeks safety by disguising herself as a man and seeks a job with the mayor, Mr. Tilyou.

Tilyou, however, is incapacitated by the love sickness he has for the rich Countess Olivia who is mourning for seven years at the death of both her father and her brother. The distraught Tilyou decides to send his new employee, Cesario (Viola) to court the resistant Olivia. Ironically, Olivia becomes immediately smitten with this messenger and actively begins to try to charm him into a relationship. When Viola's lost twin brother, Sebastian, appears, there is much craziness with mistaken identities. The resolution of this plot takes many turns.

Meanwhile, Olivia houses her uncle, Sir Toby Belch, who loves her witty chambermaid, Maria. Also living there is a servant, Fabian, a courtjester, Feste, and her major domo, Malvolio. Stopping by is a wealthy old crony of Toby's from the South, Sir Andrew Aguecheek. Toby, Maria, Fabian, and the Fool have a great time playing practical jokes on the uptight, puritanical Malvolio, and bilking Sir Andrew out of his money.  The two plots intertwine in brilliant Shakespearean fashion to a mostly happy ending, set in the "Electric Eden" of Victorian Coney Island.

Possum Point Players' New Faces of Shakespeare

presents the Bard's

Twelfth Night,

or What You Will

directed by Michael J. Murnin

Friday OCT 17 at 7:30p, 2014

Saturday OCT 18 at 2:00p and 7:30p, 2014

Sunday OCT 19 at 2:00p, 2014

ALL SEATS GENERAL ADMISSION $10.00

Possum Hall / 441 Old Laurel Rd / Georgetown DE

THE CAST

Viola...   Sharon George

Olivia...   Tara Wisely

Maria...   Stephanie Allman

Tilyou...   Thomas Scott Roberts

Sir Toby...   Chuck Rafferty

Sir Andrew...   Richard Huffman

Malvolio...   Malcolm Keen

Feste...   Delaney Cinnamon

Fabian...   Marsha Shull

Sebastian...   Cat Timko

Antonio / Sea Captain...   Mark Ladd

Curio...   Hilary Mitchell

Valentine...   Julia Bloom

Priest...   Maureen Downing


THE PRODUCTION TEAM

Director...   Michael Murnin

Musical Direction...   Liz Messick

Stage Manager...   Maureen Downing

Stage Manager...   Fran Feighery

Set / Tech Director...   Doug Friend

Scenic Artist...   Kim Klabe

Costumes...   Marsha Shull

Props...   Donna Flomp

Lighting...   Jeff Clavette

Sound / Video Special Effects...   Michael Phillips

Makeup...   Beth Howlett

Publicity...   Rosanne Pack

PPP Executive Administrator...   Dawn Conaway

MUCH ADO

ABOUT

NOTHING

Wed JUN 29

Thu JUN 30

Fri JUL 1

at 7:30p

Possum Hall

Georgetown, DE

THE STORY

Our play begins as Don Pedro, the prince of Arragon, and his officers return from the recently concluded war. The Prince's party of soldiers arrives at the home of the Lady Leonata, with Count Claudio, who had before the war been attracted to Leonata's only daughter, Hero, and Benedick, who enjoys sparring wits with Hero's cousin and companion, Beatrice.

Leonata holds a masked ball to celebrate her visitors and the end of the war. During the ball, Don Pedro arranges the engagement of Claudio to Hero, while the prince's brother, our villain, Don John, devises a plan to spoil the general happiness by plotting with his comrades, Borachio and Conrade to deceive Claudio into believing Hero is false to him.  A trick is carried out with the unwitting assistance of Hero's maid, Margaret, who talks from Hero's bedroom window with Borachio at night while Claudio and the prince, at the urging of Don John, watch secretly from a distance, under the delusion that the girl at the window is Hero.

During the ball, Hero, Don Pedro, Claudio, and Leonata decide that Benedick and Beatrice are ideal partners and by means of overheard conversations, the two realize that they do indeed love one another.

At the wedding, Claudio publicly denounces and shames Hero who faints dead away from shock. Claudio and Don Pedro leave before she is revived. With the aid of the priest, a ruse is devised in which Claudio and Don Pedro are informed that Hero has died from shock until her good name can be restored. Help is at hand as the village constable, Dogberry, and his assistants have arrested Borachio and Conrade after overhearing them boasting of their deception of Claudio and the prince.

The play comes to a joyful conclusion when Dogberry's information is given to Leonata and Don Pedro. Claudio agrees to marry Leonata's "niece", whom he has never met, in place of Hero, whom he believes has been killed by his slander. The "niece" turns out to be Hero, and as the lovers are reunited, Benedick and Beatrice announce that they will share the wedding day. Don John has been captured while trying to escape and the play ends with a merry dance.

THE CAST

Don Pedro, Prince of Aragon...   Richard Huffman

Don John, his bastard brother...   Chuck Rafferty

Claudio a young lord of Florence...   Max Griffin

Benedick, a young lord of Padua...   Tom Trietly

Leonata, Governess of Messina...   Stephanie Allman

Antonia, her sister...   Cheryl Graves

Balthasar, a singer/attendant...  Delaney Cinnamon

Conrade, follower of Don John...   Michael Short

Borachio, follower of Don John...   Thom Harris

Friar Francis...   Thom Harris

Dogberry, a master constable...   Paul Tocco

Verges, a headborough...   Marsha Shull

First Watchman...   Abby Chesney

Second Watchman...   Sharron Karrow

Sexton...   Richard Huffman

Hero, daughter to Leonata...   Delaney Cinnamon

Beatrice, niece to Leonata...   Tara Wisely

Margaret, gentlewoman to Hero...   Sharron Karrow

Ursula, gentlewoman to Hero...   Marsha Shull

THE PRODUCTION TEAM

Director...   Shannon Parks

Assistant Director...   Mary Moran

Stage Manager...   Fran Freighley

Choreography...   Thom Harris

Sound design...   Shannon Parks, Thom Harris,

  Alex Sincevich of Dapper DJ's, Paul Tocco

Set design...   Richard Huffman, Shannon Parks

Costumes...   Marsha Shull and Crew

Props...   Cynthia Cinnamon, Scott Cinnamon

Light Board Operator...   Brenna Christenbury

Lighting Advisors...   Jim De Bastiani, Logan Lynch

Set Advisor...   Fred Dean

Publicity...   Rosanne Pack

Office Support...   Dawn Conaway