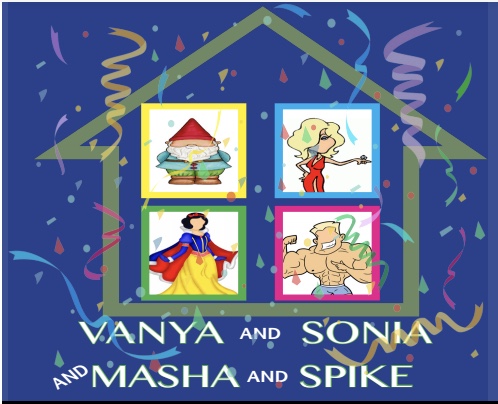 441 Old Laurel Road - Georgetown, Delaware     /     Mailing Address: P O Box 96, Georgetown DE 19947     /     Office Phone: 302-856-3460


AUDITION INFORMATION

AUDITIONS Sunday MAR 7 at 2:00p

AUDITIONS Monday MAR 8 at 6:00p

and Tuesday MAR 9 at 6:00p if necessary

Auditions will take place at PPP's

Possum Hall Theater

441 Old Laurel Road / Georgetown DE 19947

Auditions will consist of selected cold readings from the script. Auditioners should be prepared for interpretation of their desired character.

Cast Requirements: 2 men, 4 women.

VANYA – (m) 50s, living in Bucks County, Pa. Resigned to his life, more or less, at least compared to Sonia.

SONIA – (f) 50's,his step sister living with him in Bucks County. Discontent, upset, regretful.

MASHA – (f) 50's, his sister, glamorous and successful actress who goes gallivanting around the world

SPIKE – (m) mid 20's to early 30's, an aspiring actor, sexy, self-absorbed, Masha's new companion

NINA – (f) 20's, lovely, sincere would be actress visiting her aunt and uncle next door. star struck and energetic

CASSANDRA – cleaning lady and soothsayer, any age. Comedic timing a plus!

NOTE:
If you are cast in a PPP production, you may be expected to alter your appearance by cutting, growing or dying your hair (including facial hair), as well as covering tattoos and piercings, so as to authentically represent your character and the time period in which the show takes place. Please contact the show's director, Peter Cuesta, immediately if this presents a problem.
Possum Point Players 2021 presents

Vanya and Sonia

and Masha and Spike

written by Christopher Durang

directed by Peter Cuesta

Fridays MAY 7 and MAY 14 at 7:30p

Saturdays MAY 8 and MAY 15 at 7:30p

Sundays MAY 9 and MAY 16 at 2:00p

(RAIN DATES: MAY 23-24-25)

Possum Hall / 441 Old Laurel Road / Georgetown DE

THE STORY...

Vanya and Sonia and Masha and Spike, a comedy written by award-winning playwright Christopher Durang, was the winner of the 2013 Tony Award for Best Play.

The story revolves around the relationships of three middle-aged single siblings, two of whom live together, and takes place during a visit by the third, Masha, who supports them.

They discuss their lives and loves, argue, and Masha threatens to sell the house. Some of the show's elements were derived from works of Anton Chekhov, including several character names, the play's setting in a cherry orchard, and the theme of the possible loss of an ancestral home.

Broad comic acting is raised to the level of high art…deliriously funny…a heedless good time.

—NY Times

…riotous…the show's a ton of fun even if you can't tell your Seagull from your Uncle Vanya…This is the kind of full-on comedy that's sadly rare on Broadway.

—NY Post

Hugely entertaining…few contemporary playwrights have proven as deft as Durang at mining both the absurdity and the dangers of human folly…in its own deliciously madcap way, the new work offers some keen insights into the challenges and agonies of twenty-first-century life.

—USA Today

Everyone has a monologue that is nothing short of hilarious. (You'll find yourself using that word a lot.)…You've only spent a weekend with these people, but you might want to spend the rest of your life with Vanya and Sonia and Masha and Spike.

—Huffington Post

Online Tickets

Available Soon!